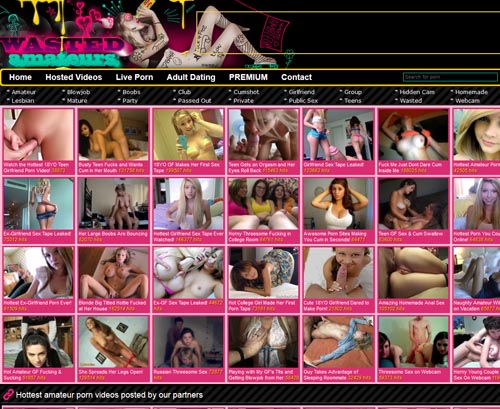 wastedamateurs
wastedamateurs.com

Life is great, isn't it? We love to party, to drink, to fuck and to enjoy every second of our existance. The ones that have money for all of these, can consider themselves the kings of this world. Welcome to WastedAmateurs.com, a porn place that will take you into the world of drunk amateurs going wild in bed.
It will cover niches like lesbian, blowjob, mature, boobs, party, passed out, public sex, teens and so many others. You will see all of them under the navigation bar. Still there, you will see the search function box that will allow you to look for your favorite type of porn. Funny thing to see that, instead of a GO! button for the box, you will have one that has written on it COCK.
The homepage will start with a section for chosen videos and underneath you will see their latest updates. Unfortunately, when you will put your mouse on the thumbnails, you will see no previews. You will have to make your choice based on the screen capture and on the title, or number of hits. Enter WastedAmateurs and enjoy this type of amateur porn entertainment. Overall, it looks fine to me!
The Best Amateur Porn Sites