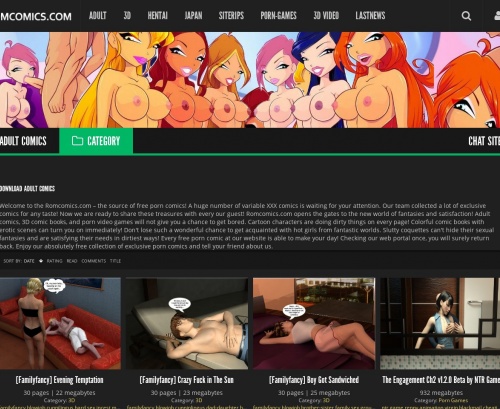 Romcomics
Romcomics.org
There is a place called RomComics.org where you can access the most popular XXX comics, cartoon porn and pics, incest, porn games and some others. When you will enter, you will see how little devils will drive you to the world of porn entertainment and there will be nothing that you can do about it. It is a blog and right from the beginning I need to tell you that they don't share a very good layout.
The homepage has the usual design and it will give you a sidebar and the actual column of new updates. The bar will give you a section with the most popular posts and underneath you will see an inquiries cloud: all sex, anal, anal sex, animation, blowjob, incest, mom-son, oral, tentacles, threesome and many others. Access these to approach specific content that will go alongside your taste when it comes to adult comics. The archive is near the buttom of the sidebar and it goes back to January 2016. Not much, but enough!
From what I see, they have 800 pages that you can browse and a page is literally filled with results. You will need to scroll days to find the footer.
Top 12 Sites like Romcomics