Everyone seems to have elaborate plans for making money online, but far too many people overlook the easiest and most obvious way to get in on the internet economy. You don't have join a weird pyramid scheme, or make crazy complicated handmade objects to sell on Etsy, or get involved in drop ship businesses that require a huge capital outlay. It's baffling to me, because it's so freaking obvious what the best way to make money online is. After all, what is indisputably the internet's biggest and most lucrative industry?
That's right: PORN.
No, I'm not suggesting you go out and make porn, either by producing it or starring in it. (Although I fully support you in doing so, because hey, there's no such thing as too much porn on the internet!) I'm talking about something much, much easier. I'm talking about adult affiliate programs.
What is an Adult Affiliate Program?
Cam and porn sites rely on marketing to funnel visitors to their sites, right? Every business needs advertisers and marketers. Well, affiliate programs basically pay you to market for them. Programs vary, but the main thrust (ha!) of the idea is that you help them market their product online and then you get a portion of the proceeds from the surfers that you send their way. That's right, you actually get a cut of the sales they make once a visitor from your site, or someone who clicks on one of your ads, ends up on their site and makes a purchase.
Why be an Affiliate?
Have you ever heard of the term "passive income?" If not, let me tell you what it means. Passive income means that you put forth a modest investment in terms of effort, and then the money just… keeps… rolling… in… Sound too good to be true? Then you're not really grasping just how huge the market for porn online is. These sites are super competitive, and they have limitless material, so they want as many paying customers as possible. They're selling the same digital assets over and over, so they can absolutely afford to pay, and pay big, for marketing. These affiliate programs aren't some sort of multi-level-marketing thing, they're a legitimate method of marketing that makes both you and the site you're promoting tons of cash.
How Much Does it Cost?
You can actually be an affiliate marketer without paying a dime in initial investment. What you will need to contribute, in the beginning, is time. Many of these programs give you access to all of the promotional tools you need. You'll have access to banners, to clips, to galleries, and often, even to free hosting for your site. What you need to do is create a site and/or a marketing campaign that reaches customers. Once those surfers click on your links to the site you're promoting, their accounts will be flagged as coming from you. Then, if they sign up for trials, memberships, or make purchases, you become eligible for payouts.
Payout Structures
There are all sorts of different programs and payout structures, and they're going to be specific to the particular affiliate program you join, but we can give you a quick overview of the most common types.
Revenue Sharing or "RevShare"
Revenue share means you get a percentage of every sale from a customer you sent their way, for the lifetime of their account. For example, you might get up to 65% on some sites, 40% on others, etc. etc. So, for example, if someone is paying a monthly subscription fee after clicking through to their site from one of your links, you'll receive 40% of their subscription fee every single month. Or, if it's something like a cam site where they purchase tokens, you'll receive 40% of every purchase.
PPS or "Pay per Signup"
PPS doesn't offer the long term potential that revenue share does, but it's a fast, hassle free way to make a quick buck. With this structure, you'll get a flat payment for every initial sign up, often up to $40. Some sites even give you a payout for sign ups for free trials or free access!
Webmaster Referrals
Yep, you can even make money referring new affiliate marketers. Like I said, these sites want all of the marketing they can get. When you refer another webmaster, you get a percent of their proceeds for the life of their account, usually between 2% and 10%
Tips for Affiliate Marketing
The number one tip I have is to choose well-established, reputable adult content providers. The affiliate programs I've mentioned on this page all fit that bill. There are plenty of great adult sites that you know will fulfill their promises, so why mess with some fly by night company? Click on some of the links below to learn more!
Want more info on 1 of these programs, or would like some tips regarding them. Feel free to contact me on skype: thepornlist
crakrevenue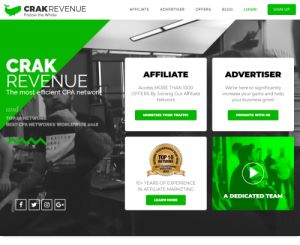 The Largest Adult CPA Network

1000+ offers

Awesome affiliate managers

High payouts

High Conversion ratio

Myfreecams Exclusive Partner
chaturbate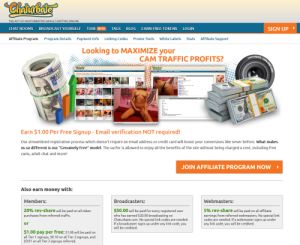 Largest Webcam Program

1$ PPL SOI

20% Revshare

Best Webcam Conversion

Best Retention
bongacash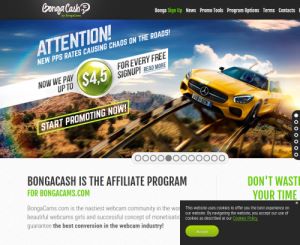 Great Webcam Program

15-25% revshare

Up to 4.5$ PPL DOI

Weekly payouts

Award winning program
famedollars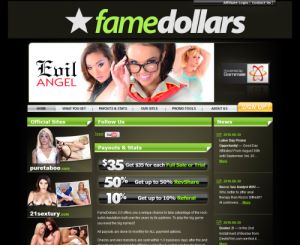 A huge Adult Network

A lot of different fetishes

35$ pps

50% revshare

10% referral
kickasspays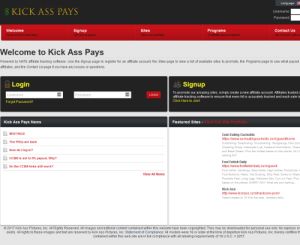 Respected Adult Program

50% Revshare

Niches: Cuckold, Foot Fetish

Best Converting Cuckold Program
fetishhits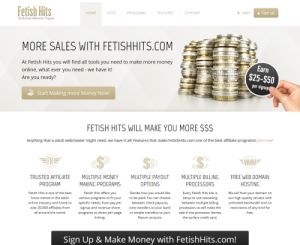 25$-40$ PPS

60-70% Revshare

All Kind of Fetish Sites

Live Cams

VOD
fetishdollars

15 Years Experience

Niches: Femdom

50% Revshare

35$ PPS

Free Affiliate Hosting
paperstreetcash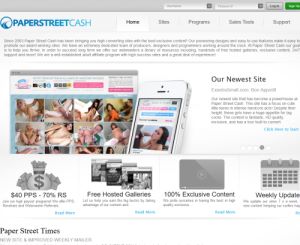 Our Best Converting Program

Niches: Family, Teen, Milf

PPS 30$-40$

Revshare 50%-70%

Highly Recommended
javbucks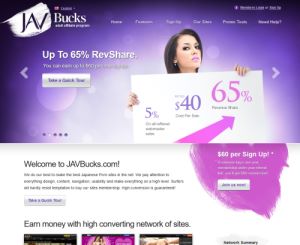 Largest JAV Program

Niche: JAV

50-65% Revshare

35PPS

Dedicated Affiliate Managers
nubilescash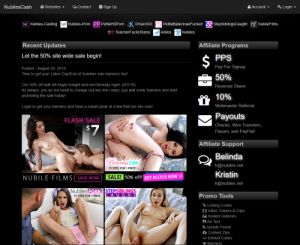 Respected Adult Program

15$-25$ pps

50% revshare

10% Referral

Well Known Sites