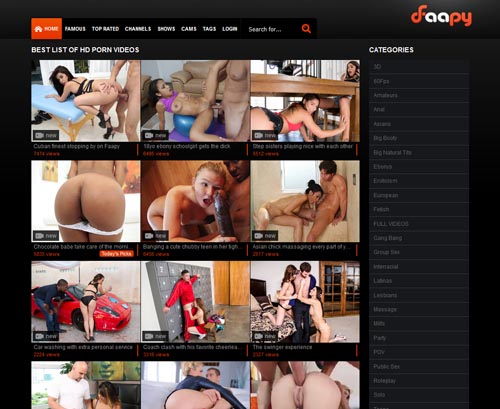 Faapy
faapy.com
To fap? The Urban Dictionary will tell you this: "Fap - The onomatopoeic representation of masturbation. Often used to suggest that something is attractive". They will even give you an example, to see how the word is used: "Did you see those Natalie Portman pics? *fap fap fap*". Well, we are not reviewing a celebrity website, but a porn destination called Faapy.com, a place where you will get HD porn and high quality sex videos.
Welcome to Faapy, a tube with an exquisite design. Its design will take any giant of porn you can think of. It really looks great. Besides that, you will get a lot of amazing niches: 3D, 60Fps, amateurs, anal, asians, big booty, big natural tits, ebony, eroticism, european, fetish, foot fetish, full videos, gang bang, interracial, latinas, lesbians, MILFs, party, POV, public sex, roleplay, solo and teens.
On the homepage, behind beautiful thumbnails, you will get their best list of HD porn videos. I've tried one and let me tell you this: prepare yourself with a good laptop and a good connection. Faapy.com will give you a HD never seen before and a total of 142 pages at the moment of this review.