Top 10 Ebony Porn Stars
The old proverb says that once you go black, you never go back. That seems a bit exaggerated because a lot of people like to switch between all kinds of partners, regardless of the color of their skin, and applied to porn, it has even less value. The truth is that people that watch ebony pornstars don't get magically obsessed to them that they don't want to see any other scene. They often switch to watching white girls, but even more often, they come back to see the black beauties and enjoying their shiny ebony bodies in some of the amazing porn scenes.
That is, of course, the case with an average porn lover that likes to have a taste of everything, but in reality, a lot of people watch exclusively ebony themed porn, and they sure have pretty damn good reasons for doing so. Ebony babes possess a special type of an exotic charm that no other race has. While Asian girls are considered mysterious, Latinas spicy, the reputation that follows black girls is that they have curvy but also strong bodies and that they can be hot as hell when they are properly turned on.
Also, let's not forget their other characteristics that separate them from other girls. Almost all black girls have naturally full and pouty lips that white girls unsuccessfully try to mimic by having lip enhancing procedures. Black girls' lips are wonders of nature, so full and kissable, and they look more than amazing wrapped around a thick boner. Another feature that ebony girls are known for is their massive booties. Most of the black girls have big butts that they like to shake so much that they even made twerking popular. Anyway, for whichever reasons one may like them, we are presenting the best.
10. Jada Fire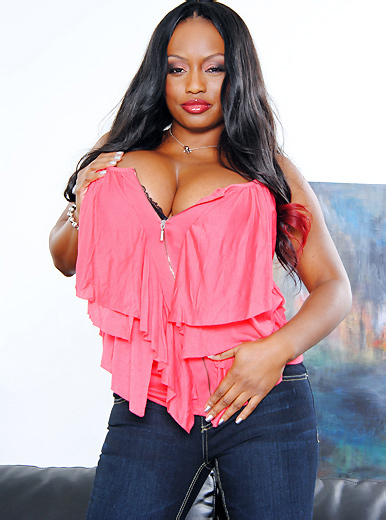 A true legend in the world of porn, Jada Fire is a busty ebony babe that has been making men cum since her porn debut, all the way back in 1998. Since then, she has been a star of over 600 movies and earned a lot of porn rewards. Her full cock sucker lips and her stunning DD's, as well as her amazing anal performances (she won "Best Anal Performer" award 3 times!), made her an ebony queen of the porn scene. Even though she retired from porn a few years ago, she deserves to be among the top 10.