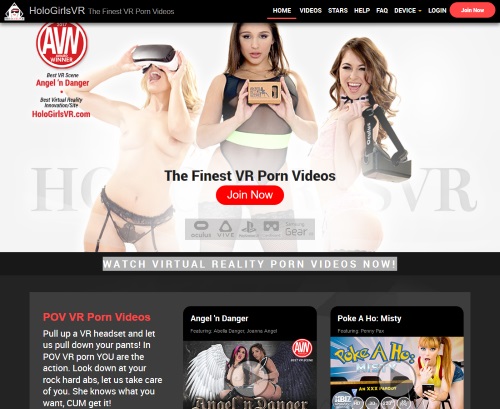 hologirlsvr.com
hologirlsvr.com
After you will confirm that you are 18+ years old, HoloGirlsVR.com will open its doors. They are saying that they are the world's finest adult VR ... What can I say? I am the world's biggest reviewer of porn websites, right? Based on their words, you can let them show you how it is done and all you have to do is pull up a headset and relax, in order to see the hottest girls and all your favorite stars.
Welcome to HoloGirlsVR, a Virtual Reality porn website that works with Samsung Gear VR, Oculus Rift and Google Cardboard. The homepage will give you a trailer where you can take a look at parts of the scenes that you are about to see if you will register on this premium website. Prepare to take out some dollars, because it costs money.
If you will sign up, you will get access to the most technologically advanced VR experiences, unlimited downloads, no sick process that ensures content enjoyment without sickness, proper world perspective (no distortions), true color - no VR washout and true immersive audio. Enter HoloGirlsVR.com to enjoy some nice VR porn using your headset, no matter what brand they are.
Top 12 Sites like hologirlsvr.com