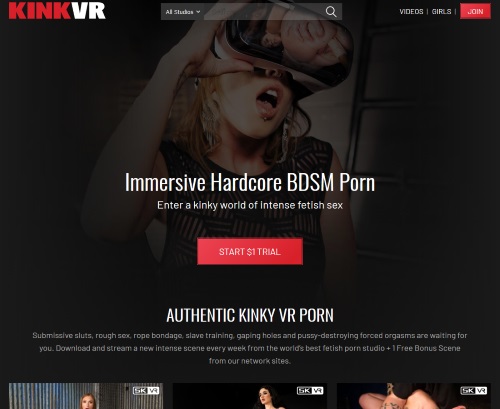 kinkvr.com
kinkvr.com
KinkVR.com is the new brother of Kink.com. It is all about fetishes and this new addition is all about VR fetishes. Virtual Reality porn is here and as you expected, it will cover all niches. Just like all websites under the Kink brand, this one will also run priceless. Priceless after you will pay the price, of course. You thought that it is free? You won't find VR porn websites with free content, because the bandwidth costs too much. Therefore, premium websites will rule the niche of VR, without any doubt. Also, it costs big bucks to produce this type of content.
KinkVR has trailers on its homepage and if you will join, you will get a lot of hardcore fetish porn and it works with all the usual headsets: Oculus Rift, Samsung GEAR VR and Google Cardboard. This website will allow you to immerse yourself right in the middle of the action. This is the basic of Virtual Reality porn, right?
Don't forget that you have to be 18+ years old in order to access this website. They will ask you to confirm this when you will enter. See KinkVR for the latest trends in fetish VR!
Top 12 Sites like kinkvr.com