Tiny Thai Girls For Your Asian Fever
When it comes to Asian babes, the Thai girls are the most accessible. Thailand is famous for it's booming sex industry and white men from all over the Western world are traveling there to satisfy their deepest fantasies. Some of those men are also taking a camera with them, and they become independent porn producers. Most of the Thai porn is shoot like that, with hot Asian escorts in hotel rooms. Although the babes are not actual porn stars, they have a lot of experience around hard cocks to offer amazing performances in front of the camera. And they're not even shy when the camera starts rolling. In fact, they find the whole experience flattering, and that's why they give their best to offer the most amazing cock sucking and dick riding sessions. If you also dream about one day travelling to Thailand and enjoying some of the fine escorts that the country has to offer. Or if you want to enjoy some tiny Asian babes getting railed by white dudes, then the following site recommendations will fit right into your needs as a man. Here's what you can find in our Thai porn category.
Thai Escorts Turned Porn Stars
The following sites are not really featuring porn stars. All the babes who are getting fucked in these movies are actually Thai escorts. For a bit of extra cash, they agreed to be fucked by their clients in front of the camera. And they are absolutely brilliant. I don't know how familiar are you with the Thai babes, but I absolutely love them. Most of them are skinny chicks with tight asses and even tighter pussies. Some have implants, but the big majority of the girls have natural perky titties with pointy dark and rock-hard nipples. They are all so cute and tiny, and even if they are over 25 years old, they still have that teen look. Of course, the collections we bring you are featuring so many babes who are between 18 and 21 years old. Basically, if you have a thing for petite porn, the Thai babes of the sites we recommend will sure please your fantasies. They might now be porn stars, but in my opinion, they are better than that. I think that a professional Thai escort has more experience around the cock than any famous porn star. And you can see that experience in the way they suck cock and in the way they move when on top of it.
The Thai Escort Experience
Most of the movies in the sites that we bring you are shot by independent porn producers who successfully blended pleasure with business and created their own porn sites where they share their sex trip adventures. That's why these movies will bring offer you the real Thai escort experience. On top of that, so many of the videos are shot in POV, offering you the same view the guys who fucked all these hot Thai chicks had. What I find really cool is the fact that the dudes went bareback on the pussies and tight asses of these chicks. So, if porn featuring action without a condom is what floats your boat, then the collections of the Thai porn sites in this category are sure the thing you need. But I must warn you. The Thai escort experience on these sites feels so real in the movies that you might feel the urge to book your plane ticket and finally go on that sex-filled adventure in Bangkok or Phuket.
Naughty Thai Sex
Because all the chicks of these sites are professional escorts, there is nothing they won't do in front of the camera. The collections we recommend in this category are featuring everything you need, from solo to threesomes. There are girls who play with their pussies and asses in front of the camera for us, and they get all their holes filled with cum. What I've noticed are many creampies, both vaginal and anal, throughout the collection. But that doesn't mean you won't get to see the adorable faces of these Thai babes covered in fresh thick cum. Sometimes, the guys shooting these movies have treated themselves to two girls at the same time. Almost all threesomes you will find on these sites are FFM ones, and they include lesbian play, with pussy licking and dildo action. There's even some massage porn included in this category, with cute Thai babes who are getting oiled up and then fucked on a massage table. The sites are not featuring any extreme kinks, such as BDSM, piss play or gang bangs. The collection features the kind of sex that you would have if you'd be there in the hotel rooms with all those sexy Thai escorts.
TeenThais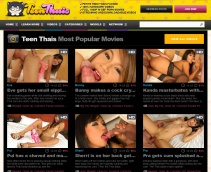 Brand New Addition! Complete review will follow shortly.
CreampieThais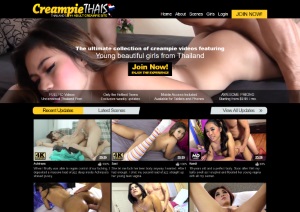 Brand New Addition! Complete review will follow shortly.
SubmitYourThai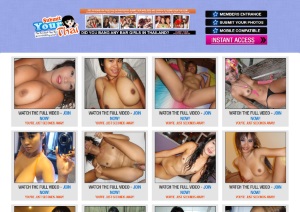 Brand New Addition! Complete review will follow shortly.
ThaiSwinger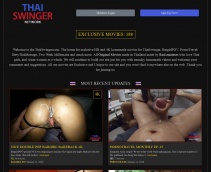 Brand New Addition! Complete review will follow shortly.
ThaiGirlsWild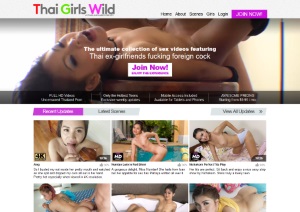 Brand New Addition! Complete review will follow shortly.
GoGoBarAuditions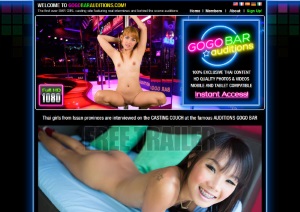 Brand New Addition! Complete review will follow shortly.
ThaiPussyMassage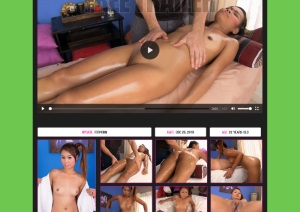 Brand New Addition! Complete review will follow shortly.