It Doesn't Get Any Better than This
Back in the golden age of porn, all the action was filmed like you're watching your classic movie. You know – wide angles, a little bit of close-up, plenty of tits and asses, a bit of cock and pussies thrown into the mix. By today's standards that would be pretty lame, and over time the camera work in porn became much better. But people wanted something new, something else – everyone wants to be a part of the action. That's why those good people in adult entertainment invented POV, which stands for point of view. That basically means that the camera angle is different and you're watching everything like you're a part of the action. POV means that you're watching from the point of view of the actors; none of that cameraman stuff. Before, you were limited to director's and cameraman's point of view and their vision, but today with POV you're basically another actor on the porn stage! And isn't just better to be able to get lost in the moment? You'll have a feeling that you're the one fucking that gorgeous girl and her beautiful pussy! We're just glad that we have such a marvel in our time and that's why you need to discover and explore our POV porn sites category ASAP!
You're a Part of the Action
First they tried to make the cameraman hold the camera in POV style, but that didn't work. Let's be honest: porn actors and actresses have zero issues fucking while the camera is rolling, but having a 150 pound camera pointed at your junk and twat in close range by another guy isn't exactly stimulating. That's why they've gone to gonzo filmmaking; the actor or actress is holding the camera and filming everything! That means that you get the best possible angle without worrying about some filler shots and boring scenes, because literally everything that's important is happening right in front of your eyes. There are no scenarios, scripts, dialogue or all that crap that's just getting in the way when we're talking about porn; there are just people that are naked and want to have a bit of fun. Not to mention the fact that POV scenes are much cheaper; you don't need the director and all that people behind the camera! You only need two hot porn stars and they'll do the rest. Besides, if you want to see some intricate plot, witty dialogue and lots of dramatic scenes, you'll just watch a regular movie, right? This way you're getting pure action and don't waste your time on those boring bits which everyone is rewinding anyway!
Now Those are Some Good Angles in POV
Well, it would be pretty boring if you had just one angle in POV porn, right? No matter how big his dick is, how awesome her pussy or ass look, it all gets stale after a couple of minutes. That's why clever filmmakers found the hottest angles to use in POV porn movies. It's no wonder that this kind of porn is hugely popular; it brings the best porn bits to the table and leaves out all the boring stuff! Usually the guy is holding the camera so you can see her ass in case of anal, or her juicy pussy in case of good old vaginal sex. Then you have the angle in which she's holding the camera; you can see all the guy's features in a few shots. They might also show close-ups of her face and you'll definitely have a fantastic view once he starts shooting that warm jizz all over her hot body! As you can see, there are plenty of things to watch while you're browsing POV porn, and you'll be rewarded with some of the best scenes in the business.
Point and Shoot All That Cum
POV porn is so much more rewarding compared to regular porn – and it's still the good stuff that we've been getting for decades. It's just wrapped and packed better, and there are plenty of sites out there that love to work with this kind of content. Gonzo and POV porn filmmaking have become a staple in porn industry, and you can bet your ass that you'll find plenty of sites in this category. You have the usual batch of premium sites, and then you can explore some free sites as well! There is plenty of great POV porn out there, you just need to start clicking and discover it. Another major selling point for POV is that includes all kinds of hot porn: from sexy MILFs and cougars, hot grannies and barely legal teens to all kinds of BDSM, fetishes, orgies and hard core stuff! It is definitely the right time to start exploring the world of point of view porn!
FirstClassPov
First Class POV brings the hottest babes, horny studs and some great camera work – they really are one of the best sites in the POV business and have that super high quality 4K resolution!
POVD
POVD offers some of the best POV scenes in porn industry – they have high-quality stars, amazing camera work and you'll really feel like you're a part of the action.
POVLife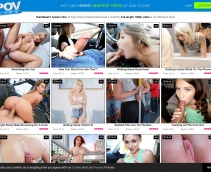 POV Life is a POV porn site brought to you by Team Skeet! They have a huge roster of porn stars and starlets, amazing camera work and some bonus content, so it's time to enjoy yourself!
MrLuckyPOV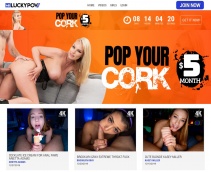 Brand New Addition! Complete review will follow shortly.
TeasePOV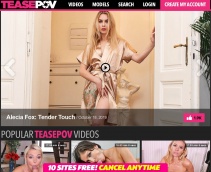 Tease POV is a classy and sassy point of view porn site with amazing porn stars and high production values! Once you start watching their videos you'll be hooked!
POVBitch
POV Bitch is a hot spot for all kinds of point of view porn! It's a premium site with excellent offer of POV porn scenes and plus gives you additional access for networked sites.
FilthyPOV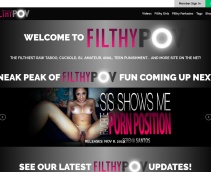 Filthy POV offers a relatively big collection of hot POV porn! They're a premium site with awesome models and excellent selection of the best point of view porn scenes out there.
POVAV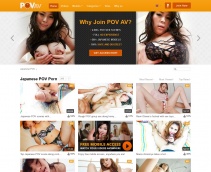 POV AV is a hot Japanese porn site, available in English and Japanese, which has thousands of hot POV porn scenes, more than 600 models and regular updates, so let's have some fun!
WaitressPOV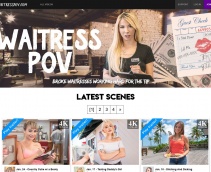 Brand New Addition! Complete review will follow shortly.
MrPOV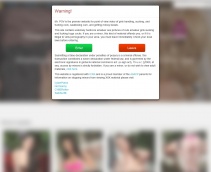 Mr. POV is both a site and the porn star; this guy loves to bang hundreds of babes, make point of view porn and hosts a premium site that offers his massive collection of POV porn scenes!
POVCat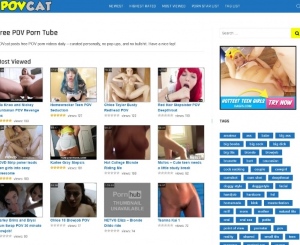 POV Cat is a cool tube where you can enjoy in point of view porn videos and all kinds of POV erotica! It's free and they have thousands of hot scenes, so dig in!