The Good Old Sex Stories Category
Don't' get us wrong – watching porn is great. They say that a picture paints a thousand words, and that's usually true. With so many videos flying around, not to mention millions of hot porn photos, who needs those pesky old stories anyway? Well, that's not entirely true. A good sex story will give you so much excitement that you'll explode with passion, and once you start reading you'll actually start caring for the characters and get in the mood quicker than you can say "cum". Sex stories are here to help us enjoy in our private moments and you know what the best thing about sex stories is? The fact that anything happening in them is possible! That's right: if you want to have a gang bangs on the top of Himalayas with Bigfoot and two hot ebony goddesses, you can do it with just a couple of sentences. You can introduce new characters, fantastical plots and erotic elements that surpass anything that modern porn movies can do. Sure, movies have their own kind of magic and we're all just visual animals, but that doesn't mean that stories are now too archaic and have nothing to offer. Quite the contrary!
It's Time to Check These Story Sites Out
There's another major selling point for sex story sites – they're usually completely free! All it takes to find a good story is a bit of clicking and searching, and you can bet your sweet ass that it's gonna be free. Sure, you might run into some banners and commercial ads, but these sites live from that, so there's no harm done. Another important thing about sex stories is that they're limitless when it comes to things that can happen in them. Thinking about some hard core action? They've got it – these stories aren't shy when it comes to describing sex scenes and you'll certainly have lots of fun reading them. Bondage and domination, SM scenes – there's plenty of that in sex stories. In fact, there are whole sections out there, on these sex story sites, dedicated to that awesome BDSM category. Perhaps you're a big fan of incest or you want to read about college adventures? There's that, and plenty more: fantastic elements like ghosts, genies, monsters, angels and devils – anything that comes to your mind! Don't forget to browse for cheating and cuckolding stories, first time stories, golden shower and scat stories, or something profoundly and deeply bizarre and original – because story isn't limited by camera view, available actors, scenery and light; story is a canvas on which the authors can paint whatever they want.
And There's More to It
If you've been thinking that it's just about reading – you'd be wrong! There are plenty of other things to do when you're on these awesome sex story sites. For instance, a lot of them have authors' pages where you can see other works by a particular author. That means that if you like someone's style of writing and enjoy in his/her works, you can easily find more of their stories. In addition, stories are usually labeled with keywords or tags, so you can find similar stories and enjoy even more. Naturally, there are plenty of straight, gay and lesbian stories out there, transgender stories, orgies, gang bangs, threesome stories and more – there's no limit to what human imagination can do, and once you start browsing these incredible sex stories you'll be hooked. They're juicy, they're rich and they'll introduce you to a world of lush and luscious imagination that will open new horizons up in front of your very eyes. All it takes is a bit of reading; don't forget, that's pretty safe to do whenever you might be, unlike those porn videos and photos which would alert everyone that you enjoy in porn!
Let's Cut to the Chase and Read Them
Chances are that you might be a budding author yourself – if you have some ideas and want to write a sex story, let's do it! Put it on virtual paper and submit your entry; most of these sites encourage and welcome new stories because that's how they grow and enrich their huge collections. If you don't want to write, but only to get lost in these amazing worlds filled with sex and pleasure, that's okay as well – you can just sit back, relax and let the stories take you on a journey! They will make you feel more alive than ever, help you relieve that tension and allow you to get lost in characters' adventures and troubles like they're your own. There's some steamy sex poetry there as well, so you can take your pick. BDSM, cuckolding, teens, incest, gay and lesbian, shemale and gangbangs, orgies and golden showers, role playing and costumes, crazy situations and amazing plots – and a ton of sex – is what the stories are all about!
LushStories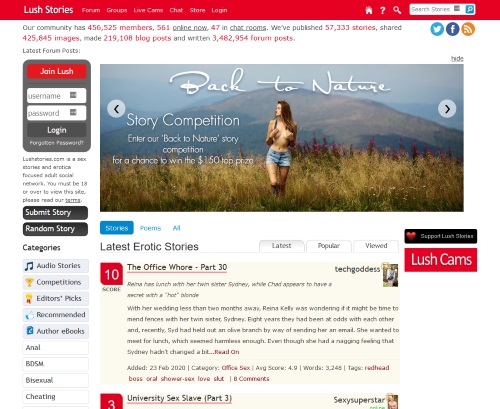 Brand New Addition! Complete review will follow shortly.
Indian Sex Stories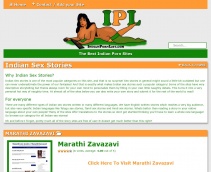 Brand New Addition! Complete review will follow shortly.
Literotica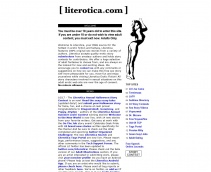 Literotica is a massive site with erotic stories, but hold on to your horses because they also have live cam shows, videos, toys, forum section and much more – and it's all 100% free!
Nifty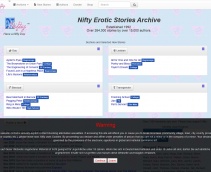 Brand New Addition! Complete review will follow shortly.
MCStories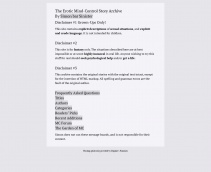 Brand New Addition! Complete review will follow shortly.
SoloTouch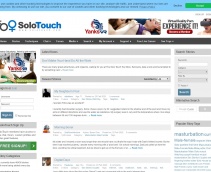 Brand New Addition! Complete review will follow shortly.