Wiggle and Jiggle All the Way Through
Okay, there is a kind of ideal body shape when it comes to porn. You know it, no need to hide it. It's all about relatively skinny babes with huge boobs and tight asses, slender abs and long, luscious legs. And that's completely fine; these idealized bodies are great and we're all enjoying while watching these gorgeous beauties and their equally hot partners banging the brains out of each other. But, where's the limit to all that and what happens when you don't want to watch this but rather something different? Then BBWs are ready to step on the scene; and every step they take is pretty colossal! You'll feel the floor trembling as these gorgeous plus-sized beauties are taking the floor. They're large and in charge, and they're fucking better than regular girls in porn! We don't know why is that or why big and beautiful women are so popular. You can call them whatever you want, but these extra-large babes are here to stay. Guys can simply relax and be themselves with extra large babes; they aren't exactly obsessed with their looks and don't want everything to be perfect. They just want to be fucked harder than ever before and enjoy in every moment they're spending together – that's these BBWs are so fucking hot!
It Ain't a Mistake, Bigger is Better
You know how the old saying goes – bigger is better – and that goes twice when it comes to these gorgeous BBWs! Somehow men feel stronger and better when they're with this plus sized, fat girl, and she's always ready to do anything in her power to please her man. It's no wonder that prehistoric men were painting them back in the days – go ahead, search for it and you'll discover that people had BBW fetish thousands of years ago! Even back in those days, long before modern porn, paintings revealed huge boobs and jiggling asses, butts that you could use as a cushion and fun-bags the size of someone's head! Bigger tits are always a delight, but in this case, they're coming with a package that sees everything oversized! Comfy bellies, real curves, long and soft legs – these big and beautiful women are the real deal, unlike those skinny bitches who only think of what they won't be eating next. BBWs know that they're gorgeous and they aren't afraid to show it and enjoy in their huge bodies. They never complain about oversized dicks, they're always in the mood and want to try new and crazy things – that's the beauty of them.
These Sites Have the Hottest Models
There's a lot of BBW porn out there, but in order to make high-quality BBW porn, you definitely need to spend some money. That, in turn, means that a lot of these sites tend to be premium because they're hiring only the sexiest big girls and plus sized models. If you don't want to spend money and become a member of these super-hot BBW premium sites, well, that's okay as well; our busy team of diligent explorers managed to gather some seriously hot sites and you can enjoy in some of them for free! That's right – some of the BBW porn sites are free tubes so you can expect a lot of mega-sized bitches that are sucking dicks, feeling those big thick black dicks inside their comfy, soft pussies and doing all kinds of sexy things. BBW chicks are always up for a ride and once they start sucking someone's cock, they won't stop until their bellies are full of hot jizz! Since they're so spacious and curvaceous they have plenty of desire for anal and vaginal sex as well – it's difficult to fill those big asses and satisfy their oversized cunts once you start fucking them!
All It Take is a Bit of Clicking
We've done most of the proverbial heavy lifting for you: all these hot BBW porn sites have already been discovered, classified and categorized, organized into one neat BBW porn category. All it takes, from your side, is to start clicking and then playing with yourself! As we already stated, BBWs are incredibly hot because they're just natural and people can be themselves once they're with them. They're incredibly good at fucking and always want to have more and more. Their natural curves and big, round asses are enough to make any guy go wild with lust. But that's not all: they also have a pair of hot, big legs and boobs that will simply smother you! There's nothing better than playing with a pair of oversized, monstrously large tits that always wiggle and jiggle while you're playing with them. You don't have to imagine all these things – start clicking on these sites and discover a world of the hottest BBW porn you could ever imagine!
Shape of Beauty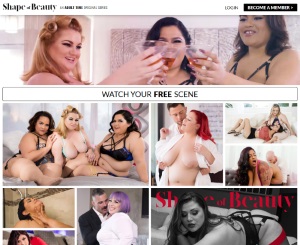 Shape Of Beauty is the perfect choice if you want to see that classy, intelligent and sexy BBW erotica! This site will just blow your mind with quality and sheer number of videos!
XLGirls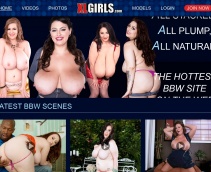 XL Girls brings you the biggest bitches that love to suck and fuck! This site celebrates big and beautiful, plus sized babes that will do anything to satisfy their guy!
Plumpers and BW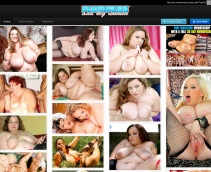 Plumpers And BW is a premium hot site that showcases a ton of the hottest BBW porn vids! These girls are large, in charge and super-sexy, and they aren't stopping until their partners are satisfied!
My BBW GF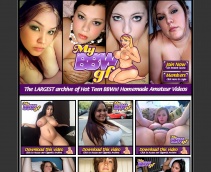 My BBW GF has the hottest real and natural big and beautiful women – and they're sucking and fucking like it's nobody's business! Give this premium site a shot and you'll love it!
Feed Her Fuck Her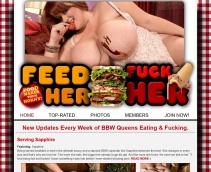 Feed Her, Fuck Her is an amazing premium porn site filled with hot, super-sized chicks and delicious food! Watch them eat and get fucked, or vice versa – this site is just so sexy and crazy!
Bbwtime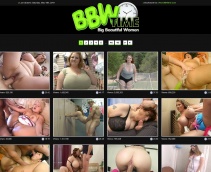 BBW Time is a hot site featuring big and beautiful women who love to suck and fun! If you love natural curves and more cushin' for the pushin', this is the place to be!
Jeffs Models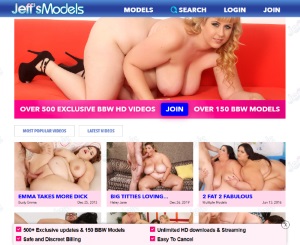 Jeff's Models is a beautiful site that features big and beautiful BBW ladies! These plus sized beaus will blow your mind with their sexual antics and erotic charge – so give them a shot!
Cool BBW Porn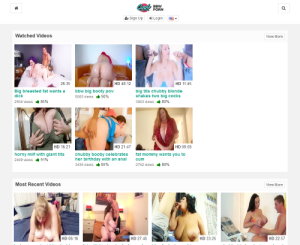 Brand New Addition! Complete review will follow shortly.
Plumperd
Plumperd has amazing BBW models and lots of fetishes like bondage and domination, facesitting and restrain; these hot large chicks are here to pleasure everything and everyone they can!