Foot fetish lovers unite!
You've been looking all over the Internet for great foot fetish porn and here at The Porn List, we have exactly that! We're all about helping people find all different types of adult entertainment and it just so happens that foot fetish action is one of the most popular niches out there right now. What a lot of people don't realize about tootsie-focused adult entertainment is that it comes a huge variety of shapes and sizes: it's not like the teen niche or anal focus where it's only one thing that matters: people who want foot-focused porn enjoy lots of different things. Sometimes they get a bit of a bad rap but at The Porn List, we're all about celebrating people no matter what they're interested in or want from life. Oh and don't worry, your naughty secret is completely safe with us – we won't tell your family or co-workers that you stay up until ungodly hours to find yourself some kinky foot fetish porn. While we don't think there's a taboo around feet in adult entertainment, we understand that plenty of people do!
Great content no matter your focus
Want to see girls with pretty feet having hardcore sex with men who know how to appreciate them? Perhaps you're more into girls giving amateur footjobs? Oh, and let's not forget those out there who love the idea of sucking on the toes of a sexy Japanese girl! Suffice to say that if these are all of your interests, The Porn List has something that you're going to absolutely love. Our team looks all over the Internet for smut in a variety of niches and only focuses on the best of the best so you know where to go for world-class material. We're confident that you're going to love our selection of sites to check out so much that we'll give you a money back guarantee they're fantastic! Okay well, given we don't actually charge for you to visit The Porn List that doesn't mean much, but believe us: these are some of the greatest places to go online if you're only looking for foot fetish sites. It couldn't be much simpler than that!
Sexy feet have a biological basis
It's interesting to note that in the section of the brain that deals with sensory input of touch, the location which is primarily focused on the genitals is right next to the feet – some scientists suggest that this is one of the reasons why people have such an erotic response from having their toes sucked, soles licked and so on. It could also be that people who are interested in foot fetishism are a little on the wild side and like things to be taboo: that's another plausible explanation. We're not completely sure if all foot fetishists have this crossing of wires that triggers their desire, but it would go a long way to explaining why feet are the go-to body part for fetishism that doesn't have a biological basis in reproduction! The Porn List receives so much traffic to this page that we're thinking about creating a porn list devoted to nothing but footjob porn, leg worship and so on! Stay tuned for more on that because we have no doubt that plenty of you toe sucking addicts would go crazy for a site like that. Hell, we might even ask you guys for a little bit of input: it stands to reason that any foot freak reading this is going to have a pretty decent understanding of what makes his niche of porn so damn enjoyable.
The women who love foot worship
Let's not forget that the best part of all foot fetish sites is the ladies that don't mind giving up their tootsies for worship: at the end of the day, none of this would be possible without them! Don't for a second think that they're not keen on receiving the attention though – whenever you ask a woman after a foot fetish porn shoot just how much she enjoyed the scene, all of them give it a 10 out of 10! While some women don't like to admit it and pretend that they hate feet, secretly they get so turned on when the opportunity arises to have their lower half looked at and admired. The Porn List loves good girls with great feet: we just love footjob porn too! Have you ever had the pleasure of a sexy pair of feet wrapped around your cock, stroking it up and down as you're rock hard? This separates the girls who know from those who don't: a lot of skill is required to make a guy cum from a footjob, so you've got to be doubly grateful to ladies who can pull it off (no pun intended).
Footsiebabes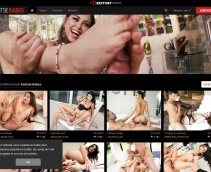 Fresh weekly uploads from Footsie Babes brings you some of the finest pornstars around getting pounded hard before they take a hot load to their sexy feet. Full 1080p HD videos and bonus sites inside!
21footart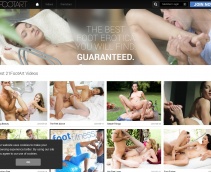 Access 150+ exclusive hardcore porn videos starring the likes of Sophie Lynx and Blue Angel today inside 21 Foot Art. Delivering scenes in full 1080p HD downloads, you can't go wrong with a membership here.
hotteenfeet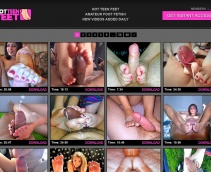 Perfect teens with sexy feet having a great amateur time in front of their cameras: it doesn't get much better than this. Watch nubile babes sucking their toes or enjoying cumshots directly to their soles right here!
LoverHerFeet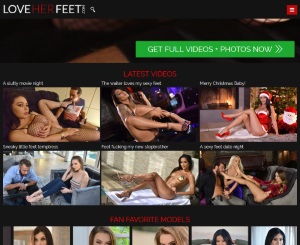 Brand New Addition! Complete review will follow shortly.
legaction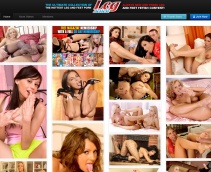 Sexy legs and hot feet: a killer combination that anyone browsing this category will love! Membership here comes with free DVDs and access to hundreds of foot-focused hardcore porn videos: you'll even find anal inside!
divinefeet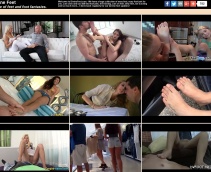 Browse through an archive of curated thumbnails showing third-party tube videos from the likes of xVideos. Completely free to use and 100% committed to images and nothing else: minimal but useful for foot fetishists.
feet9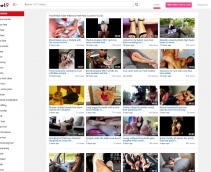 A niche-specific tube site offering free videos from a range of sources: check out sexy Asian feet, voyeur content, footjobs and more when you head on over to Feet9 today.
sexyfeet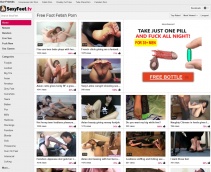 Another great free porn tube site with an exclusive focus on adult entertainment centered around feet. Thousands of videos are available here and all offered to you completely free of charge.
footadoration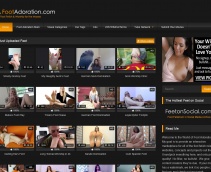 Hand-picked foot fetish porn videos delivered on a tube site by a patron of the niche. Although you can't download content and there are a few adverts here, the overall experience at Foot Adoration is a positive one.
legsjapan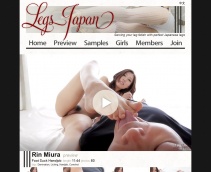 Delicious Japanese women going above and beyond to deliver a wild foot fetish experience. Legs Japan is a paysite with lots of sample content you should check out right now for free!