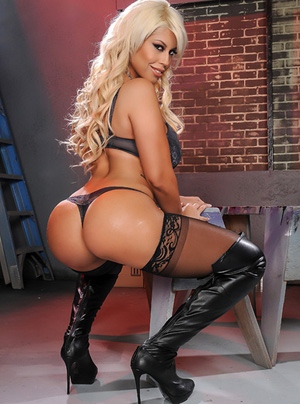 Bridgette B
Bridgette B is a pornstar

Also known as the Spanish Doll, or as Bridgette B., Bridgette and Bridget B, the blonde pornstar Brigitte B. was born on October 15, 1983 in the sunny Barcelona, Spain. She studied at the Ohio University and graduated with a diploma in Fashion Merchandising. She successfully combined the study with her stripping job and in 2008 she made her debut in the porn industry, at the age of 25.

The girl with brown eyes, 59 kilograms, 1,72 meters as height and with 85B as bra size, preferred to have a big style debut in the pornography. She didn't start by posing nude or by masturbating in solo movies, but she got straight to the real action: threesomes, blowjobs, deep anal and so on. With her large boobs, 86 centimeters in hips and a waist of 68 centimetres she looks perfect and her success among the porn industry's fans is a huge one. Bridgette B. appeared in movies like DD Doctors, Big Titty Slaves or Latin Mommas part 2.

Luz Abreau on her real name, this famous pornstar loves tattoos and she has three on her hot body. Her movies are watched by millions of fans from all over the world.