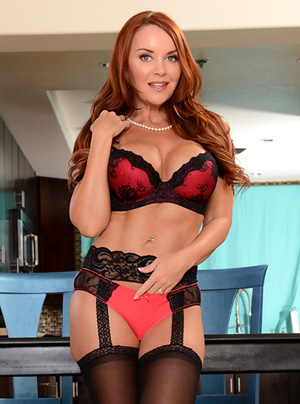 Janet Mason
Janet Mason is a pornstar

Janet Mason, born on April 8, 1967 in Los Anegels, California and is one of the most respectable mature actresses in the adult movie entertainment. The redhead lady with blue eyes made her entry to the adult film industry with an amateur website created by her. In 2000 her professional debut in the fascinating world of porn was already done.

Janet's first porn video is called Janet's Foot Tease and the main stars of this video are her small and beautiful feet. This dame is famous for her milf shoots, but she also appeared in hardcore, interracial, orgy, anal, threesome, blowjob, creampie, cum eating, boobies fucking and girl-on-girl scenes. On the cover box of the Cougar Hunt 3, in February 2009, the milf resembled an Ann Margret of our days, without too many clothes on her. Two months later she was celebrating her eleven years of career as an online pornstar. She said that her career as a pornstar allowed her to explore her sexual life and to make money same time.

Janet has always been taking care of the way she looks. Now, she is a devoted mother and wife and she does foot fetish scenes on her website.