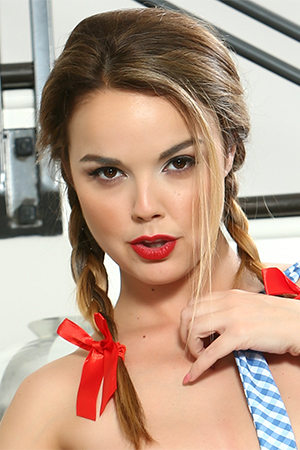 Dillion Harper
Dillion Harper is a pornstar

Dillion Harper is one of the most famous pornstars in the world. The girl with an innocent look, warm smile and amazing body was born on September 27, 1991, in Jupiter, Florida, United States of America. The brunette girl with natural boobs is the dream girl for many males and women!

At the age of 19, Dillion started to work as a webcam model, hiding from her parents in the locked bathroom. In this way, she hoped to raise money to go to college and to have a career as an oral hygienist. As life wasn't easy at all for this girl, she had to give up on her plans. She was helped by the formal pornstar Bella Roxxx to get in contact with BangBros. She played in her first adult movie for BangBros, in 2012, in Miami and at short time after that, Dillion she realised she wanted to make a career in porn. She appeared in many 'first time' scenes and she dreams to become a milf and a dominatrix, too.

In her spare time, Dillion likes boys, spending time on the Internet, watching movies, baking and cooking diverse treats that she loves to spoil her colleagues with.