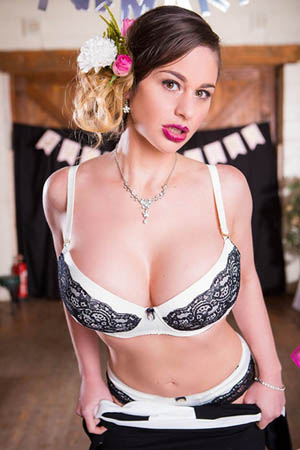 Cathy Heaven
Cathy Heaven is a pornstar

Cathy Heaven was an economist before she decided to start fucking like there's no tomorrow. She is a gorgeous porn star from Hungary. She was born in Budapest on July 28, 1980. Cathy is 167 centimeters tall, and she weighs around 57 kilograms. Her massive boobs are the thing she's proud of the most. The 34DD milk cans are a perfect surface for a nice creamy load. She likes to rub it in, like a lotion.

Although Cathy has a relatively small ass, it doesn't matter; it looks perfect. When she bends over to get annihilated from behind, the sight is awesome. Her tight asshole begs to be penetrated deeply. She loves being fucked from behind, the way she moans while being banged tells you she doesn't lie. Her hair has the perfect length for hardcore grabbing from behind.

Cathy speaks three languages fluently, and she's quite intelligent. She's also a gym enthusiast and always manages to find the time to get some exercise. That's why her body looks like it was sculpted by an ancient sculptor. She's a true embodiment of perfection, no doubt about it. Cathy offers endless hours of great fun, once you start watching her perform.