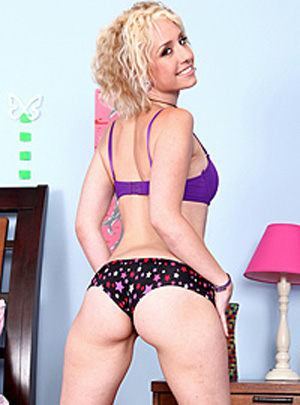 Proxy Paige
Proxy Paige is a pornstar

Proxy Paige is an American porn actress born in Bismarck. She has hazel color eyes and blonde hair, she looks amazing. With her 160cm of height and 52 kilograms of weight, she looks like a true porn diva. Proxy is 27 years old but she's very talented and skillful. The way she takes a stiff cock into her mouth is simply amazing. She will devour that cock like it's nothing and she'll be asking for more when she's done with this one. Fearless and ambitious, Proxy is the perfect model to watch on lonely nights and desert feelings, she'll bring your adrenaline levels up instantly.
Proxy has a tattoo on her foot, a perfect spot to cum on for feet lovers. The things she does with her feet are simply unimaginable and almost extraterrestrial, the way she strokes a dick with her amazing feet is something you've never seen before. Also, Proxy has 20 piercings, yes, 20. Premium experience is guaranteed by Proxy and her sheer ability to induce loads of cum from her partner in crime.
Proxy likes to fuck from behind, that her favorite position. She likes to be grabbed by the hair and impaled by a hard cock to oblivion.