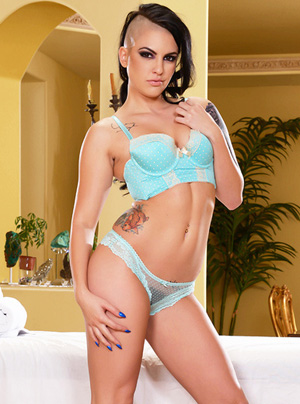 Rachael Madori
Rachael Madori is a pornstar

Rachael Madori is a successful porn actress born in Los Angeles, California. Because she comes from a hot state it's pretty obvious she's hot as firkin hell. This 23-year-old babe knows exactly what's she doing, the way she devours stiff cocks is ridiculous. She likes everything, girls, anal, group, you name it – she adores it. Rachael has a very peculiar hairstyle which makes her even hotter. Rachael is 170cm tall and has 61 kilograms, she's a stunningly handsome young slut, no man can resist her beauty and hotness. The way she takes a cock into her favorite hole is something you'll remember forever.
Rachael also has more than a few tattoos on her amazing body, for example, she has a "Without Mercy" written in Arabic on her lower belly, which means she loves to get pounded without mercy by anyone who's brave enough to fuck this sensation of a woman. Each role she plays suits her perfectly, she's a great actress as well.
Rachael is a very intelligent young lady with lots of interesting ambitions. She started her career two years ago and she's enjoying every single minute of it. Rachael is one obligatory daily jerk off for anyone who likes bad girls.