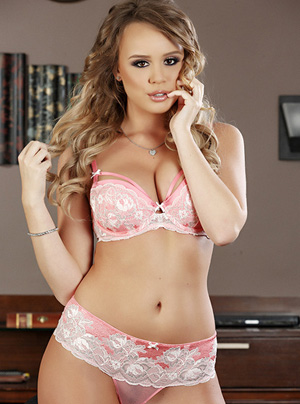 Alexis Adams
Alexis Adams is a pornstar

Alexis Adams started doing porn as Jordana Ryan in 2012 when she was the Playboy "Coed of the Week" for 19 January. Then she jumped to the hardcore side of the adult industry and changed her name to Alexis.
She was a cheerleader and started working as waitress at 16 until 19 years old. She started as a nude model only. She did that during one year for Model Mayhem, and was even against porn. But her opinion changed and now she is doing porn for life! They convinced her to do a solo masturbation scene, which she refused at first, but then she did it. The same happened when then asked her to do a boy / girl sex scene, again she promptly refused, but then she accepted to do it, and never stopped.
At least she says that she will go back to school to study psychology and will only get out of porn when she graduates. Her great body with those nice 34C breasts can beat anyone, and no man can stay away from this surprisingly hot porn star. Her natural slim body, her sexy blond hair and her brown eyes have something appealing that no one can avoid!