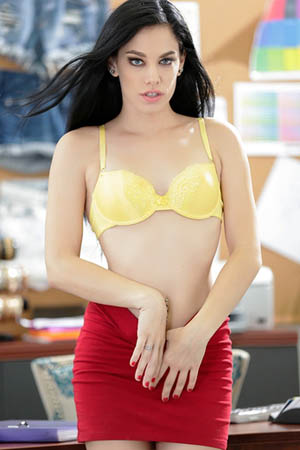 Bobbi Dylan
Bobbi Dylan is a pornstar

Bobbi Dylan is a glorious porn star from the United States. She was born on November 29, 1992. She's around 165 centimeters tall and weighs 50 kilograms. She is fit as hell, and also quite easy to carry around the room while being fucked like never before. Although Bobbi has small natural boobs, they look amazing. Whether you like small tits or not, hers are going to sweep you off your feet.

Her tiny ass is perfect for reckless drilling because her moans intensify with every single poke she gets. The hottest thing about this beautiful woman is her piercings. She has a lot of them, starting from the belly button to her tasty clit and nipples. There's nothing better than sucking sweet pierced nipples while she's riding a raging stiff cock.

Bobbi has mesmerizing blue eyes, and when she looks at the camera, you can see she actually enjoys in what she's doing. She chose the right profession for herself, no doubt about it. Although she's only 23 years old, she doesn't lack experience and talent. The way she wiggles her petite ass while moaning from pleasure tells you she's done this before. Her favorite position is doggy style.