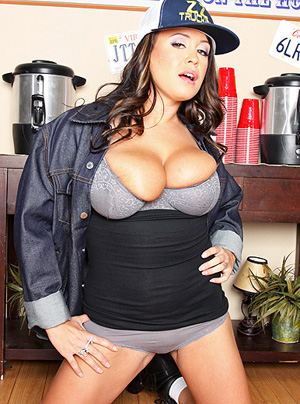 Brandy Talore
Brandy Talore is a pornstar

The leering Brandy Talore loved to experience a lot of hobbies and jobs before entering the porn industry. Born in Toledo, United States, on February 2, 1982, she used to play softball, she was a cheerleader and studied the therapy massage. She was also a car model and a stripper before joining the fabulous world of adult movies, in 2004.

Brandy Talore is also known as Brandi Talore, Brandy or as Brandy Taylore and she is famous for her immense boobs with long nipples. She wears 80F as the bra size and with these huge appetizing boobs she fulfilled the fantasies of many people that watched her porn movies! This fabulous pornstar simply loves to have sex in front of the camera! You can see her in all kinds of wild actions: she has amazing moments of pleasure while masturbating, she loves sharing cock with another girl, she never says no to a lesbian experience, she sucks cock right between her gigantic boobs, she rides woodies and she offers amazing stripping shows while playing with her knockers!

Brandy has an impressive collection of porn movies where you can see that porn is not just a job for her, is passion!