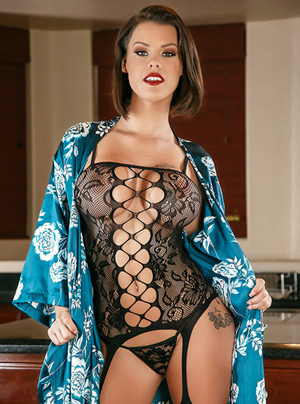 Peta Jensen
Peta Jensen is a pornstar

Peta Jensen is a 25-year-old American porn actress from Florida. She started her career in 2014. and she's fucked numerous thick cocks since. Peta has mesmerizing brown eyes and tits to die for. Her brown curly hair is simply amazing. This babe has 56 kilograms and she's 170cm tall, the perfect ratio.
The unmatched talent that Peta has in her repertoire is ridiculous. She sucks cock like a true champ. The way she licks pussy leaves her porn partners stunned and speechless, she guarantees orgasm when she goes down there. Peta Jensen has numerous tattoos on her sexy body, for example, she has a beautiful flower on her left perky breast, sunflower on her right foot, as well as a heart, also on her right foot.
This babe will surely knock you off your feet in an instant, the way she handles her business and does her job cannot leave you indifferent for sure. When she sits on a thick shaft and takes it deep inside her love tunnel, the moan she produces makes any man go crazy and jizz all over the place. Peta Jensen is the real deal for brunette lovers, the hot cum on her face is her favorite asset.