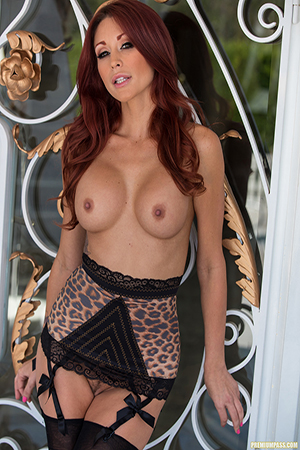 Monique Alexander
Monique Alexander is a pornstar

Monique Alexander is a beautiful redhead porn actress from California, USA. She's 34 years old and she looks like an embodiment of a Greek goddess. Her 32C breasts are crowned with the best-looking nipples you've ever seen. Those nipples are perfect for the hot juicy cum Monique likes so much. She can't resist oiling up her perfect tits with hot jizz every time she makes a man ejaculate. The talent she has is simply amazing, the way she handles stiff, hard cocks cannot be described, you'll have to watch it yourself.
Monique is 165cm tall with 46 kilograms of weight, she has a ridiculously proportional body, almost perfect. There's no way anyone could resist the aura Monique emits, she mesmerizes everyone she meets. Monique has numerous awards in her long career, for example, she got 2011 AVN Award: Best All-Girl Couples Sex Scene and 2009 AVN Award: Best Couples Sex Scene.
Monique is a nympho, she can't get enough of hard cock, no doubt about it. She also has numerous tattoos on her beautiful body. Hello Kitty with a red heart to the left of pubes is one of her many tattoos. No one expresses her love for cock better than Monique.